Why Choose A Professional Black Car Service?
Why Choose A Professional Black Car Service?
When you need to get somewhere in a hurry and don't want the hassle of driving yourself, hiring a professional black car service is the way to go. These services offer luxury vehicles and drivers who know the area well, so you can relax and focus on your business meeting or upcoming vacation.
You have many choices when it comes to ground transportation, but there are several reasons why using a professional black car service is the best option. First, these services offer luxury vehicles that will make you feel like a celebrity. Whether you're traveling for work or pleasure, having a driver wait on you hand and foot makes any trip more relaxing.
Here are a few more reasons to consider using a black car service the next time you need transportation.
1. Professional black car services provide a luxurious experience for their clients
2. They offer convenience and peace of mind, especially for business travelers or those who are unfamiliar with the area
3. Drivers are professional and knowledgeable about the city, and can take you wherever you need to go without any stress
4. Black cars are often more spacious than traditional taxis, and come equipped with all the amenities you could need
5. Services like Uber or Lyft can be cheaper in some cases, but they don't offer the same level of luxury or convenience that a professional black car service does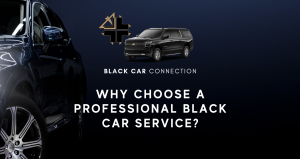 Convenience is key when it comes to black car services. You can book your ride in advance and have peace of mind knowing that someone will be there to pick you up on time. This is especially helpful if you're traveling to a new city or need to be at the airport early in the morning.
Another benefit of black car services is that they offer a higher level of customer service than traditional taxi companies. Drivers are usually more courteous and professional, and they're happy to help with your luggage or give you directions.
Finally, black car services are a great way to travel in style. Whether you're going on a business trip or a special occasion, riding in a luxury car is sure to make a lasting impression.
If you're looking for a hassle-free transportation option, black car services are the way to go!
Contact Black Car Connection today so that you can enjoy convenience, quality service, and a stylish black car for your next location!
Call us today: (213) 986-9850
Check us out here on Google!