10 Places You Can Go To In Los Angeles With A Black Car Service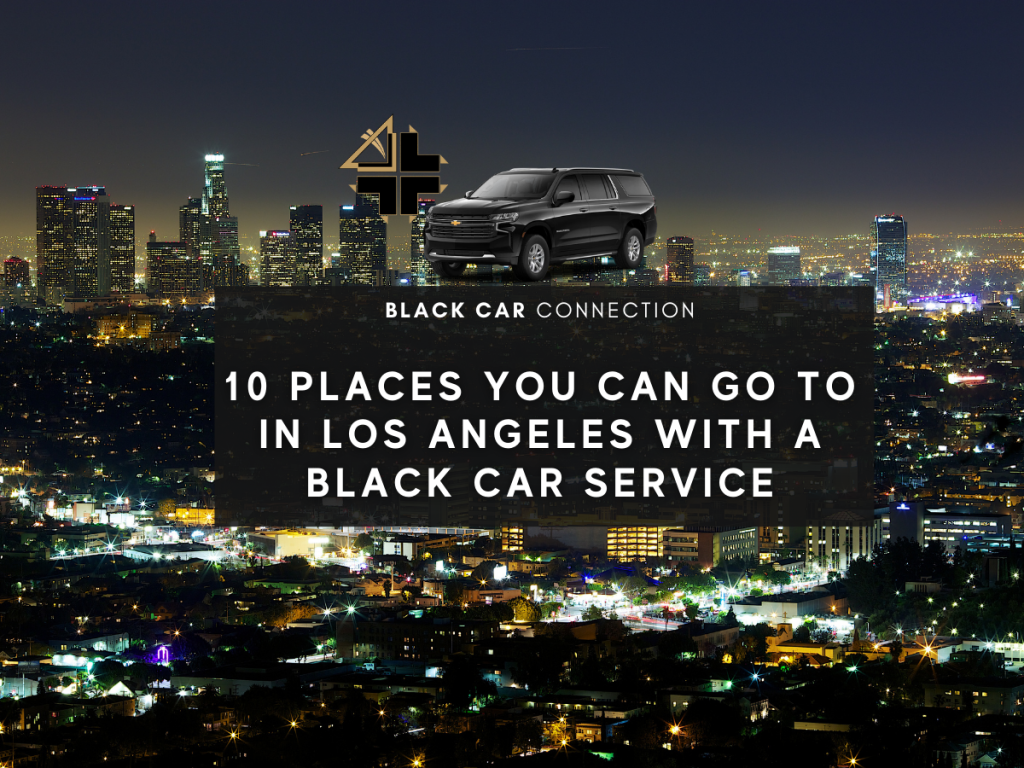 Los Angeles is a booming metropolis with plenty of incredible attractions, making it one of the most visited cities in the country. Whether you're visiting for business or pleasure, there are many great places to see and go when you have access to a black car service. If you're looking for a memorable experience while traveling in Los Angeles, check out the top ten places below:
Hollywood Boulevard – This iconic street is known around the world as one of Hollywood's most famous landmarks. With shops and restaurants lining its sidewalks, there's always something exciting happening here that attracts people from all over the globe. You can spend hours strolling along this famous strip and taking in everything there is to see.
Universal Studios Hollywood – This famous theme park offers a unique and exciting experience that you won't find anywhere else. With rides, shows, and activities for all ages, this is the perfect destination if you're looking to keep everyone entertained on your trip to Los Angeles.
Beverly Hills – Home of high-end shopping and fantastic restaurants, this city is a must visit spot if you love luxury items. Be sure to make time in your schedule to swing by Rodeo Drive where you can see some of the most expensive designer shops around the globe!
The Getty Center – Located in Brentwood Village, this incredible museum features an expansive collection of modern art from artists all over the world. With rotating exhibitions, there's always something new to see at this one of a kind museum.
Griffith Observatory – This Los Angeles landmark is perched atop Mount Hollywood and offers breathtaking views of the cityscape below. It's also home to an array of interactive exhibits that focus on astronomy and science, making it the perfect place to spend an afternoon if you love learning about our universe.
Santa Monica Pier – An iconic spot in Southern California, this pier is lined with carnival rides, shops, and restaurants that make it the perfect place to spend a day by the ocean. Don't forget to take a spin on the world-famous Ferris wheel for unbeatable views of the coastline.
The Hollywood Walk of Fame – This is probably the most well-known street in the entire city and is home to more than 2,500 stars honoring celebrities from all over the world. Be sure to bring your camera as you explore this unique attraction!
Rodeo Drive – Another world-famous shopping destination, this iconic street has something for everyone when it comes to luxury goods and apparel. Whether you're looking for a new designer handbag or want to splurge on jewelry, there's plenty of high-end stores here that are perfect for spending some time window shopping!
Venice Beach – With delicious restaurants, quirky shops, and plenty of things to see and do, this beachfront city is a must for visitors. Be sure to check out the Muscle Beach Gym where you can witness some of the best fitness enthusiasts in action!
Hollywood Bowl – This historic venue features over 18,000 seats and hosts live music performances all summer long. With fantastic views of Los Angeles from its perch on top of a hill, it's easy to see why this outdoor concert hall is one of the most popular places in town!
Whether you're planning a vacation or just want to experience everything that Los Angeles has to offer, having access to an experienced black car service can make your trip even more enjoyable.
Whether you're interested in heading out on a shopping spree or want to take in some of the city's most famous landmarks, we can help you get where you need to go in style. Contact us today to learn more about our services and how we can help you make the most of your time in Los Angeles!
For more information about Black Car Connection, please give us a call.
Call us today: (213) 986-9850
Check us out here on Google!